Attracting foreign investment in depth, sustainable development
08:39 31/12/2022
In order for Bac Ninh to continue to be an attractive destination for investors, in the coming time, the province will attract in-depth foreign investment associated with sustainable development goals; give priority to quality projects with increased scientific content and large investment rates; especially satellite projects in the complete product production value chain, projects of electronics, precision mechanics, high-tech industry; products with high added value and competitiveness, environmental friendliness; increas the proportion of localized value in products.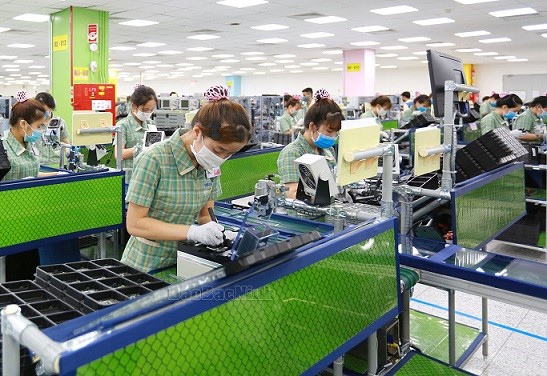 Samsung Bac Ninh is typical in attracting foreign investment into the area.
Creating a favorable investment environment
With many competitive advantages in geographical location (close to Hanoi capital, located in the northern key economic triangle) and open investment environment, stable politics, sustainable socio-economic development, with abundant, high-quality human resources, over the past time, Bac Ninh has been one of the most attractive localities for foreign investors. Thanks to these advantages, the flow of foreign direct investment (FDI) into Bac Ninh in recent years has tended to increase, especially after Vietnam joined the bilateral and multilateral free trade agreements (FTAs). Assessing the situation of foreign investment cooperation and investment attraction policies in the area, Mr. Nguyen Dinh Xuan, Director of the Department of Planning and Investment said: "For nearly 20 years now, Bac Ninh province has always affirmed its leading position in attracting and using FDI capital thanks to the constantly improved investment and business environment, increasingly open legal procedures and unique advantages of Vietnam. Bac Ninh is an attractive destination for investors from many countries and territories in the region and around the world. Accordingly, accumulated up to now, the province has granted investment registration for 1,799 valid projects with the total registered investment capital after adjustment and capital contribution to buy and buy shares, the contributed capital reaching nearly 23.2 billion USD.
In the period 2011-2021, Bac Ninh province witnessed a remarkable growth in attraction of invesment capital, becoming one of the leading localities in the country in terms of investment attraction when having attracted 1,497 projects and 18.6 billion USD of registered capital. In particular, in the period of 2020-2021, due to the heavy influence of the covid-19 pandemic, the world market faced unprecedented difficulties, leading to the stagnation of foreign trade activities, disruption of the supply chain, increase of global costs, restriction in travel between countries. However, with many advantages and open investment attraction policies, Bac Ninh province still made its mark when attracting FDI capital up to more than 1,700 million USD, becoming the bright spot of Vietnam in attracting investment capital. In 2022, the province's FDI attraction continues to grow, reaching nearly 2 billion USD, of which: 124 new projects with a total registered investment capital of more than 318.8 million USD; 118 adjusted projects with the increased adjusted capital of nearly 1.67 billion USD; 43 times of capital contribution with the contributed capital reaching 47.49 million USD.
General Director of Samsung Vietnam Co., Ltd. Choi Joo Ho said: Of nearly 19 billion USD of total investment capital of Samsung in Vietnam, the investment capital in Bac Ninh accounted for nearly half, reaching more than 9.3 billion USD. This number is the clearest proof that affirms our appreciation and shows our confidence in the increasingly improved investment environment of Bac Ninh province in particular and other localities of Vietnam in general.
Selecting investment projects in depth and sustainability
Mr. Nguyen Dinh Xuan, Director of the provincial Department of Planning and Investment emphasized, together with the whole country entering the period of deep and wide international integration with many opportunities and challenges intertwined, Bac Ninh has determined that the business community in general and the FDI business community in particular have been identified as an important driving force for the development and integration of the locality. Accordingly, in the coming time, the province will focus on attracting in-depth foreign investment associated with sustainable development goals; give priority to quality projects with products of high added value and competitiveness, focusing on the following fields: urban infrastructure development, smart city construction; supportive industries using modern and environmentally friendly technologies; projects in the field of information technology; Research and Development; tourism, financial services, banking; human resource training; high-tech agriculture, safe and clean food... At the same time, approach to receive investment from companies and corporations in the field of high technology; enhance innovation and receive knowledge transfer from FDI businesses; improve management capacity and efficiency in the field of processing and manufacturing technology in the province.
Along with that, Bac Ninh has innovated in investment promotion, associated with trade and tourism promotion as well as foreign and cultural activities; clearly identified key markets and countries (Korea, Japan, America, Europe), large corporations to introduce the province's potentials and advantages; focused on and strengthened investment promotion on the spot; closely followed and supported the activities of the working group to promote foreign investment cooperation of the Ministry of Planning and Investment. The province has promoted the application of information technology in handling administrative procedures for business registration, investment registration, tax, insurance, and land; publicly and transparently announced all sector plannings, subdivision plannings and land use plans in various forms so that enterprises can easily access investment information; strengthened the role of investment promotion agencies for diplomatic organizations and economic sectors with foreign investment capital./.
Translated by Nguyen Mai Huong