Chairwoman Nguyen Huong Giang receives delegation of Shandong province (China)
16:58 31/12/2022
On December 29, Chairwoman of the Provincial People's Committee Nguyen Huong Giang received and worked with a delegation of Shandong province (China) and Goertek Group to explore investment opportunities in Bac Ninh.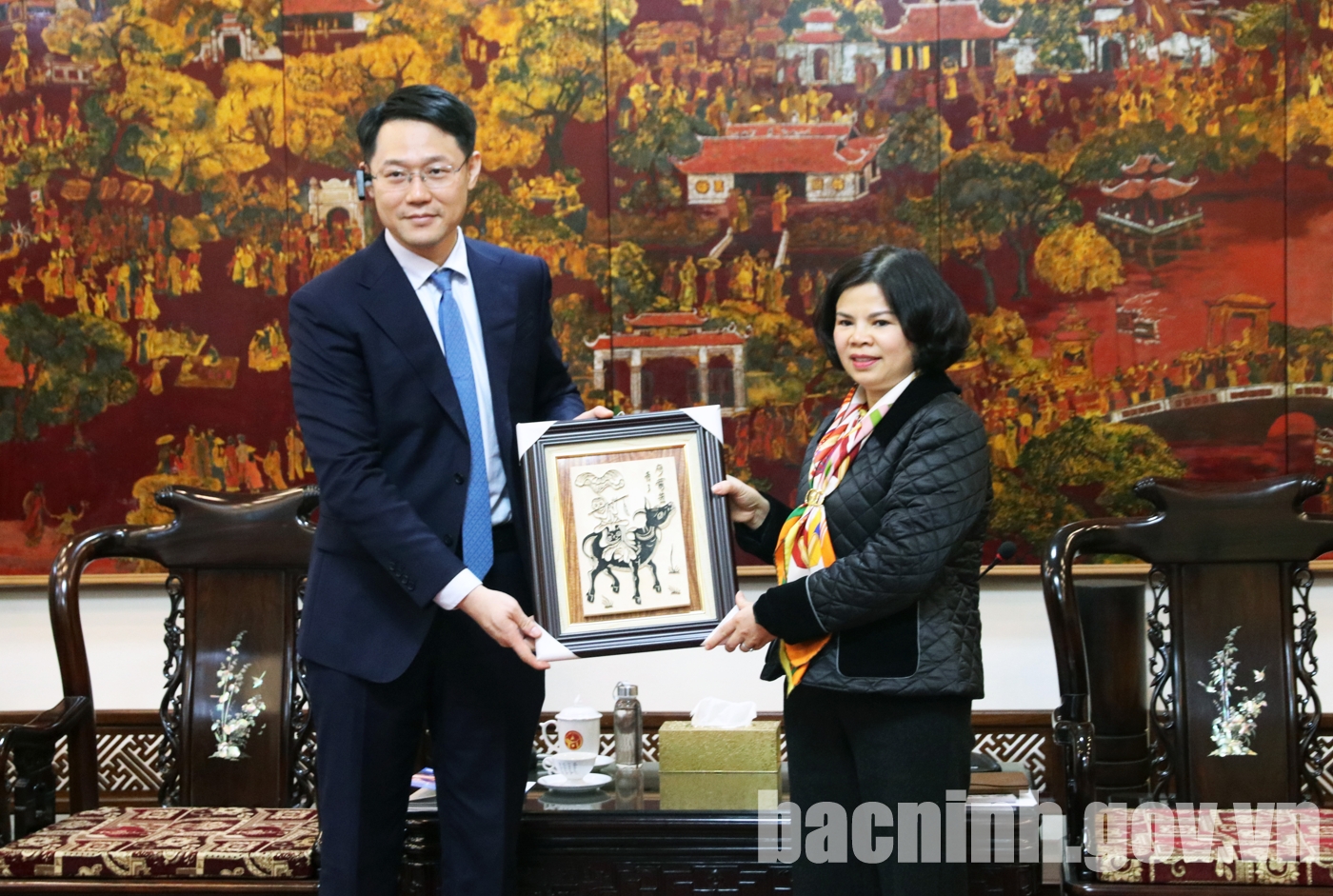 Chairwoman Nguyen Huong Giang presents craft village products to Mr. Wang Hai Tao.
At the meeting, Giang expressed her pleasure to welcome the delegation of Shandong province and leaders of Goertek Group to visit and explore investment opportunities in Bac Ninh. She briefed on the province's socio-economic development in 2022. She said that Bac Ninh is attracting businesses from 38 countries and territories, among which, China has a large number of enterprises investing in the province. Goertek Group of Shandong Province is investing in Que Vo Industrial Park, making many positive contributions to the overall development of the province.
Over the years, Bac Ninh province has always paid attention and promptly removed obstacles for businesses to operate the effectiveness, according to the motto that the success of enterprises is also the success of the province. Chairwoman hoped that Shandong and Bac Ninh provinces would step up activities of mutual understanding, exchange and cooperation, contributing to cultivating the good neighborly friendship between Vietnam and China.
On behalf of the delegation, Mr. Wang Hai Tao, Director of External Relations, Investment and Economic Cooperation of Shandong province thanked the Bac Ninh provincial government for supporting and accompanying businesses of China as well as Shandong province to overcome difficulties during the COVID-19 pandemic. He said that Shandong is an industrial province with a large population, with China's third largest economic scale.
Mr. Wang Hai Tao wished to continue to receive timely support from the Bac Ninh government for Chinese businesses investing in the province as well as promote cooperation between the two provinces. In the forthcoming time, Bac Ninh supports and creates favorable conditions for Goertek Group to soon deploy an investment project in the production of drones in Que Vo Industrial Park, Tao added.
bacninh.gov.vn