Taking care of workers on the occasion of the Lunar New Year 2022
15:55 10/03/2022
Tet is the feeling of reunion, happiness, welcoming a new year with beautiful, perfect, and full wishes...; Tet is the time when we look back together after a year of hard work, study and dedication; Tet is also the feeling of the community's sharing and companionship to unlucky situations and fates...; The activities of the trade union to take care of workers on the occasion of Tet are the gifts, visits - encouragement, bus trips to take workers back their home for celebrating Tet, etc., though simple, but full of love, share.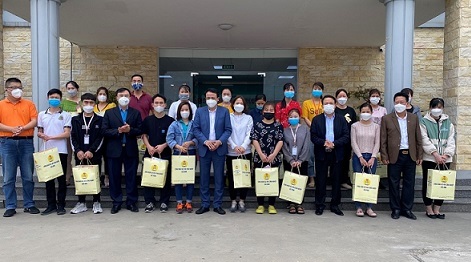 Leaders of the Authority, Trade Union of the Industrial Zones gave gifts to the workers who stay to work during Tet holidays
Under the close direction of Bac Ninh Provincial Confederation of Labor, Bac Ninh Industrial Zones Authority, continuing the meaningful activities, warm love, care for workers during Tet, the Trade union of the industrial zones issued the plans and organized the activities to take care of trade unionists and workers on the occasion of the Lunar New Year - 2022 with the motto "All trade unionists and workers have Tet".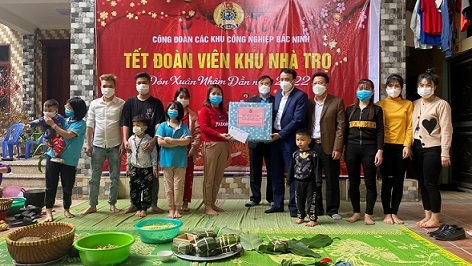 Leaders of the Authority, Trade Union of the Industrial zones gave gifts, organized Tet Reunion at the workers' hostel area
The Trade Union of Bac Ninh Industrial Zones supported funds for 142,435 workers with the amount of VND 38,977,150,000; Gave 1,372 gifts to the workers in difficult, especially difficult circumstances, poor households, near-poor households; Supported 5,010 train and vehicle tickets with a total amount of VND 1,688,000,000; Gave 300 gifts to the workers who did not return to their countryside, stayed to celebrate Tet, with a total value of VND 150,000,000; Supported 02 hostel areas to organize Tet reunion, each hostel area was VND 3,000,000 in cash, 01 gift package worth VND 1,000,000.